Comment mesurer mon pied ?
How to measure my foot correctly in order to choose my dance shoes? I have a problem in knowing which size i should order when buying my salsa shoes? ... How to not make a mistake in size when ordering a Latin dance shoe from an online shop?
ShoesMade4Me will help you to choose the right size for your Salsa, Bachata or Tango shoes. Taking the measurements of your foot will help you to choose the correct size. This will help you when it comes to ordering your dance shoes and any other type of shoes with heels as well as boots, as it is the only valid way of knowing the exact size that you should select with any Spanish or European manufactured shoe.
Let's start:
- Stand on your feet (barefoot) (A) on a white piece of paper.
- Ask somebody to help you and get them to draw the outline of your foot. To do this, you must keep the pen in a vertical position, making sure you do this with the pencil as close to the foot as possible.
- Once your footprint has been drawn, there should be an outline of the extremities so you can then measure the length (1) and width of your foot (2) with a ruler.
1- The result of number 1 will indicate which is the shoe size that you should choose, as indicated in the conversion table below.
IMPORTANT:
In the case of having a wider or finer foot, you will then have to adapt to the correct size since the conversion system only takes into account the measurements of the length being your correct foot size.
So, if you have a wider or finer foot, we advise you to find out and apply the measurements in the drawing that you will find below.
In the case of feet with special widths, please take your measurements as shown in the drawing:
You do NOT need to take measurement (A) since you already did this in the previous step.
You should use a measuring tape to take the other 3 measurements:
B- Measure your widest part of your foot drawing with a pencil around your foot (positioned as flat as possible on a sheet).
C - Circle around your toes.
D - Circle your instep of your foot.
E - Circle your ankle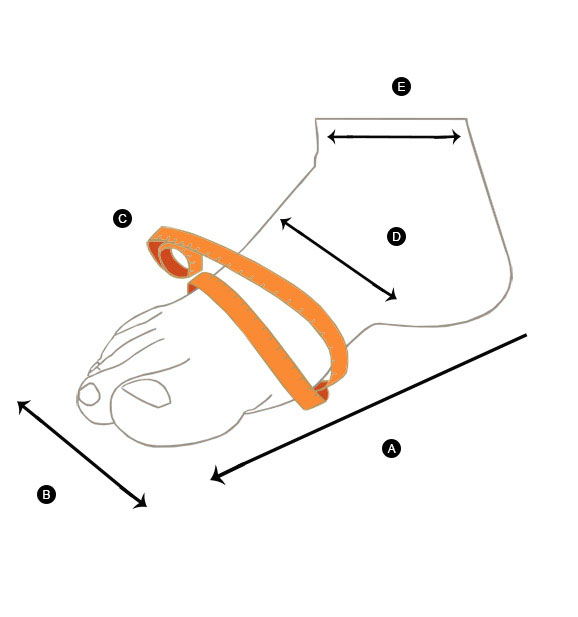 With these results, you can then send us an E-MAIL with the measurements of your foot and we will advise you which is your precise size that you should choose for your dance shoes.
SPECIAL WIDE AND FINE FEET: On ShoesMade4Me we manufacture your Made to Measure Latin dance shoes so that we can provide you with the perfect fitted shoe for your feet!