View larger
Remove this product from my favorite's list.
Add this product to my list of favorites.
White leather comfortable bridal heels
COMFORTABLE WHITE BRIDAL SHOE
White leather shoes with a salomé style with custom-made heels for women. Here is a pair of beautiful bridal shoes from our high-quality special comfort collection, handmade and custom-made.
The shape of these shoes is absolutely gorgeous and and very comfortable. Salome-shaped with the central strap over the instep of the foot, with a pretty leather patterned design on the front of the foot. Thes shoes will be perfectly support and maintain your feet thanks to their amazing fit.
Presented here with a Louis XV heel of 9 cm, these shoes can be made with a small heel of 5 cm, 7 cm or 9 cm. For those who love slim heels, the slim heel of 7-8.5 and 10 cm is available, as well as the stiletto heel measuring 9 cm.
You can view the heel types available to choose from by clicking on the orange button here above.
The inside of the shoes is lined in leather, the insoles are ecological and antibacterial with non-slip properties and the walking outer soles are also leather.
COMFORT:
These beautiful handmade Italian pumps equipped with soft gel pads placed under the insoles have been especially created to allow you to wear them for hours on end in complete comfort. The gel padding is situated underneath the ecologically treated, anti-bacterial, absorbent suede leather which is lined with a non-slip leather.
Customizable bridal shoes
These bridal shoes can be customized to your size (according to your exact measurements) and to your taste; for this you can choose:
Heel Type and height: amongst 3 heel shapes to choose from; from 5 cm to 11.5 cm for the heel corresponding to the platform.
Below you can download the document to see the different heel types.
The colour: As shown in the photo in white, these ladies wedding shoes can also be made in another colour leather, glitter or satin on request. All you have to do is choose the option of "custom colour" when you have chosen the model and then go to our CUSTOMIZABLE SHOE COLOURS page.
The platform: Although shown in the photo without a platform, you have the choice of adding one if you wish. Keep in mind that the heels available with the platform are 8.5 cm or 11.5 cm heels, and the platform measures 1 cm.
These customizable heels are individually handmade, from size 34 to size 42 on order only.
AVAILABLE IN IMMEDIATE STOCK:
WHITE LEATHER
SIZE 36 PHOTO HEEL 9 CM
POWDERED SATIN AND GLITTER:
SIZE 36 CONICAL HEEL 8.5 CM
REST OF SIZES, HEELS AND COLORS ON ORDER ONLY.
CUSTOM-MADE WEDDING HEELS AND SHOES:
Do you have a wide or slim foot? Would you like your shoes to fit you comfortably? You can choose the option of having your bridal shoes made to your exact size. In this case, we will manufacture your shoes according to your measurements.
If you would like your shoes to be Made to Measure choose the custom manufacturing option in the menu (YES - Measurements to be sent after my order). If your foot is standard,then choose the NO option.
Download the measurements sheet on the orange button.
Made in Italy
See more ->
<- Reduce

Availability date: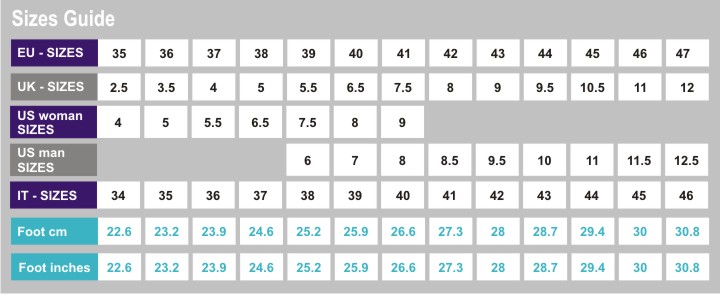 To help you to take your measurments, please follow this link:
How to take your measurments
| | |
| --- | --- |
| Height | 7 cm to 10 cm |
| Material | 100% Leather |
| Insole | LEATHER |
| Sole | LEATHER |
| Lining | Leather |
| Made In | Italy |
| Shoe Sizes | 3 US to 9.5 US |
| Comes with | Shoe Bag |
| | |
| --- | --- |
| Stock | FROM SIZE 34 TO 42 - PRE ORDER MANUFACTURE TIME 20 WORKING DAYS |
| Unit manufacturing | Yes - Pre order |
| Manufacturing time | 30 working days |
White salomé style leather shoes. Magnificent comfortable bridal shoe with a salomé shape all in leather, top-of-the-range Italian handmade manufacture, special comfort and tailor-made heels from 5 to 10 cm.
Product customization
1 : Ajoutez le produit au panier / 2 : Saisissez vos mesures / 3 : Enregistrez votre personnalisation
Votre panier affichera alors le produit ainsi que vos mesures, et nous recevrons le tout lors de la finalisation de la commande.